When you think of culinary destinations, Miami Beach is still top of mind but it's facing a lot more competition these days. Hot spots like Wynwood and the Design District are holding their own in the local food scene, with far less of a touristy reputation than its coastal neighbor. While Miami Beach has its fair share of tourist traps, it's also full of hidden gems – like these six incredible spots you need to visit.
A Fish Called Avalon
Its Ocean Drive location might turn off some people, but visitors who skip over A Fish Called Avalon are making a huge mistake. The seafood restaurant has been around for more than three decades because its food is that darn good.
As you've likely guessed from the name, A Fish Called Avalon is all about seafood: sesame seared ahi tuna, jumbo shrimp scampi provencal, Chilean sea bass … the menu is full of highlights. Make sure to save room for the macadamia-crusted snapper and the restaurant's award-winning dessert. See for yourself why the pecan-crusted key lime pie is a National Pie Champion.
A Fish Called Avalon is located at 700 Ocean Drive, Miami Beach, FL 33139. For more information, visit their official website.
CJ's Crab Shack
Another Miami Beach – and Ocean Drive – gem is CJ's Crab Shack. If you like crab, you'll be hard-pressed to find a place with more delicious options. Crab is plentiful, making up the majority of the menu. Think snow crab, Alaskan king crab, crab cakes, crab dip – a personal favorite – and much more.
Guests feeling extra hungry can complement their crab with shrimp, fish, and a variety of other proteins. Don't worry if crab isn't your thing; CJ's also boasts tasty non-crab selections like fish and chips, rib eye steak, buffalo chicken sandwiches, and clams. Pro tip: Don't miss their strong and reasonably priced specialty cocktails like Hurricane Molly and Gwen's Summertime Sangria.
CJ's Crab Shack is located at 600 Ocean Drive, Miami Beach, FL 33139. For more information, visit their official website.
Driftway
Driftway is the very definition of a hidden gem. Unless you're a hotel guest or do your research beforehand, it's likely you'll never come across it. That's because it's the poolside bar at Generator Hostel.
We know what you're thinking: Poolside bars aren't exactly known for their creative food or drinks. That's not the case at Driftway, though, where curious locals and travelers will find a variety of handheld options and stiff cocktails that are a cut above the rest. Tacos, burgers, and sandwiches … they're all items you've encountered before but they're just way better here (plus you get a poolside view). Grab some oysters, order some chicken tacos and slurp a range of boozy frozen drinks – life is good.
Driftway is located inside Generator Hostel at 3120 Collins Avenue, Miami Beach, FL 33140. For more information, visit Generator's official website.
Orilla Bar & Grill
Argentinean cuisine is a rare sight on South Beach, so Orilla is a welcome addition to the neighborhood. The South of Fifth establishment located at Urbanica Euclid Hotel is known for its charcoal grill offerings like flank steak and prime rib eye; the Josper oven is put to good use here. Other selections include a wagyu cheeseburger, chicken Milanese and whole branzino.
Not too hungry? Load up on the restaurant's delicious empanadas and arancini and round things out with beet salad and burrata. Whether you're coming for a few bites or a full-on meal, Orilla's South American cuisine always hits the spot.
Orilla Bar & Grill is located at 426 Euclid Avenue, Miami Beach, FL 33139. For more information, visit their official website.
Osteria Del Teatro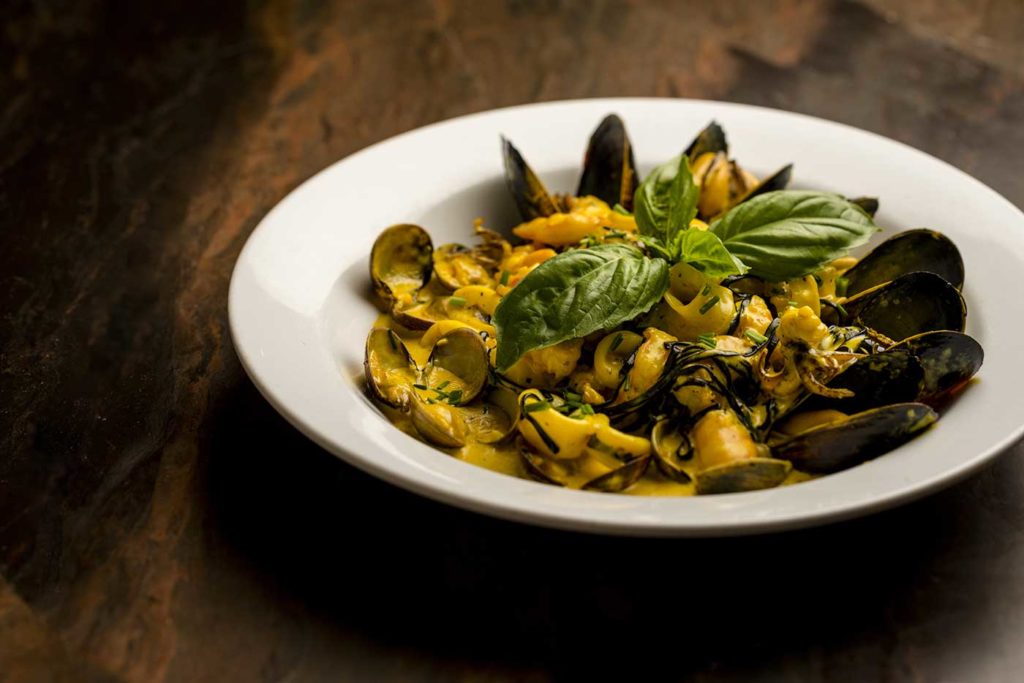 In Miami, Italian food is on every corner. Not all Italian restaurants are created equal, however. Case in point: Osteria Del Teatro. The eatery, located inside the Marlin Hotel, is home to an extensive menu of satisfying delights.
Expect to find an array of classic pastas like penne alla vodka, agnolotti al pesto and rigatoni amatriciana. These dishes are joined by more unique creations like the ravioli di pesce (white fish-stuffed squid ink pasta) and spaghetti alla Dino with wild-caught shrimp.
Fish and meat options abound, too. A little-known secret surrounding Osteria Del Teatro is its verbal menu, which consists of spoken specials not found on the eatery's printed materials. They're only on Osteria's website, so know before you go.
Osteria Del Teatro is located at 1200 Collins Avenue, Miami Beach, FL 33139. For more information, visit their official website.
Villa Azur
Away from the hustle and bustle of Miami Beach's main roads is Villa Azur, an elegant Mediterranean dining establishment. The ambiance is reminiscent of a French villa, and you can't help but feel as if you're actually in Europe. The décor will make your jaw drop – as will the food. The menu is comprised of French and Mediterranean staples like tuna tartare, spaghetti alla chitarra, veal rib chop, and dover sole meuniere.
Depending on when you visit, you might find yourself enjoying more than just an unforgettable meal. The venue is known for its lively dinner parties (emphasis on parties) and entertainment. This is one experience you won't soon forget.
Villa Azur is located at 309 23rd Street, Miami Beach, FL 33139. For more information, visit their official website.