It's no secret that some food travels well – and some doesn't. Don't settle for lackluster takeout. The next time you're looking for a stellar takeout experience, consider one of these six awesome spots.
Clutch Burger
Burgers are a takeout favorite, and Clutch Burger serves up a quality product that's delicious wherever you enjoy it. The Coral Gables hotspot is known for its gigantic and inventive offerings like the My Boy Bleu, with its honey caramelized onions, smoked applewood bacon, and signature Clutch sauce.
Another star on the menu: The Spartan, which is made up of a seared lamb patty, cucumber, tzatziki, feta cheese, and Merguez Sausage. Appetizers such as the pork wings and fried cheese tequenos are perfect for complementing your order. As you can see, Clutch Burger is serious about flavor.
Clutch Burger is located at 146 Giralda Avenue, Coral Gables, FL 33134. For more information, visit their official website.
La Placita
La Placita's approachable fare is built for takeout. Whether you opt for smaller bites like croquetas and empanadillas or larger fare like chicken Milanesa and whole fried snapper, it'll be just as good at home as it is at the MiMo restaurant. There's just something about Puerto Rican food – and Latin food in general – that makes it travel oh so well. And given the portion sizes, they'll all definitely last you a few days.
La Placita is located at 6789 Biscayne Boulevard, Miami, FL 33138. For more information, visit their official website.
Little Brazil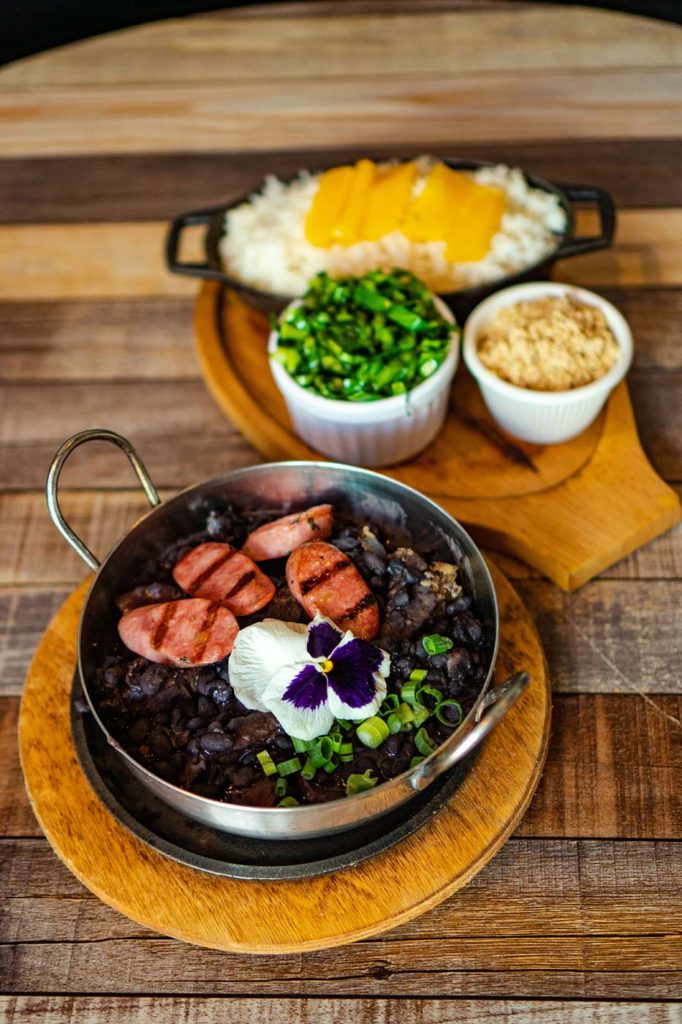 North Beach's Little Brazil is known for its picanha steak and other Brazilian specialties. Whether you choose to nosh on beef pastries, codfish croquettes, and pork sausage on-site or take your skirt steak, grilled tilapia, and spaghetti to go, you're in for a treat. There's something for everyone on this diverse menu, and you can rest easy knowing that these delectable dishes will be consistent whether enjoyed in the restaurant or at home.
Little Brazil is located at 6984 Collins Avenue, Miami, FL 33141. For more information, visit their official website.
Ruby Dee's
Ruby Dee's at MIA Market is home to some of the best food you'll find in a food hall–and in the city. Chef Daniel Roy's vegetable- and seasonal-focused menu will blow you away no matter where you enjoy it. Highlights on the menu include the mouthwatering beet salad, Maine Lobster Roll, and soft, cooked salmon, all of which are great choices for takeout. That said, there are a few things that obviously should–and can–only ever be enjoyed at the restaurant, including the monstrous seafood tower.
Ruby Dee's is located inside MIA Market at 140 NE 39th Street, Suite 241, Miami, FL 33137. For more information, visit their official Instagram.
Taqueria Los Potrillos
Blink and you'll miss this off-the-beaten-path taco shop by the airport. The West Flagler Mexican restaurant is a must for any taco fan; you can get a full meal for under $10 and it's REALLY good. Service can be hit or miss, though, so we suggest getting takeout–especially if you're tight on time. The carne asada tacos are solid, and the tortas (sandwiches) are a steal for $7-$8. Don't sleep on the Caldo de Costilla (rib)–a gigantic bowl of meat with some of the most flavorful broth you'll ever encounter.
Taqueria Los Potrillos is located at 3937 Northwest 7th Street, Miami, FL 33126. For more information, visit their official Instagram.
Wabi Sabi
Over in the Upper East Side, Wabi Sabi is serving up an array of Asian bites like maki, nigiri, and hand rolls. While you could get such items to go, they're best enjoyed inside the restaurant as part of a leisurely meal. Here's what we do suggest for takeout: Wabi Sabi's delectable bowls. Each of the six available bowls is packed with fish and other tasty ingredients, and they all travel well; pick one up and enjoy for lunch or dinner. We're partial to the Wabi Sabi, which is loaded with salmon, tuna, blue crab, and shiitake mushroom; get it with cha soba noodles and it will change your life.
Wabi Sabi is located at 851 NE 79th Street, Miami, FL 33138. For more information, visit their official website.