One of the beauties of Miami is the year-round weather. Only having to worry about humidity and the occasional hurricane is nice. And unless it's a boiling hot summer day, one of the best ways to take advantage of the weather is dining outside. So why not bring your dog along for the ride?
These six Miami restaurants are dog-friendly and won't mind if your pooch joins you for some outdoor grub:
Buya Izakaya + Yakitori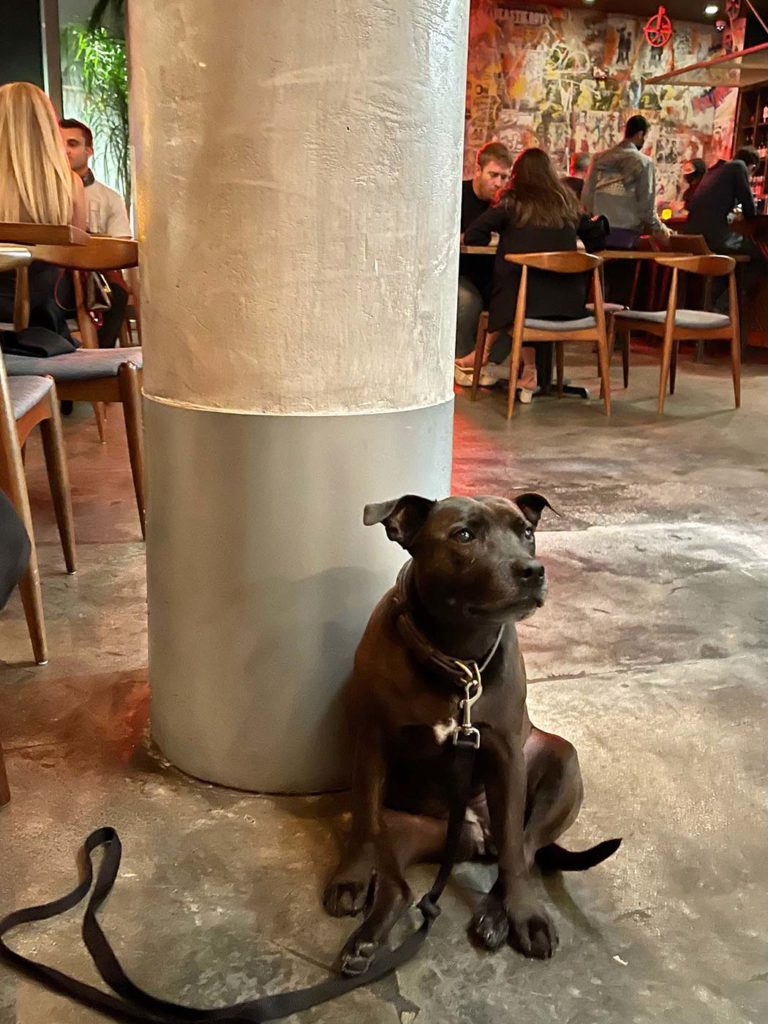 For a taste of Japanese soul food, make your way to Buya Izakaya + Yakitori in Wynwood. The neighborhood hotspot serves up family-style street food that's sure to delight your taste buds. Expect selections like karaage chicken, short rib ramen, duck gyoza hot pot, and more. Dogs are welcome in the covered outdoor seating area, so you and Fido can get some fresh air here. Learn more about Buya in their Dish Miami feature.
Buya is located at 250 NW 24th Street, Miami, FL 33127. For more information, visit their official website.
Kush Wynwood
Kush is known for two things: delicious burgers and delicious brews. Kush's crafty creations like the Johnny Utah (pastrami and cheddar cheese) and the Frita (guava jelly, potato stix, bacon, swiss, LoKal sauce) have won critical acclaim both locally and nationally.
The restaurant's beer list can also rival some eateries' wine lists, with plenty of rare finds. While you chow down on a burger and beer outside, your dog can enjoy Chichi's chicken and rice as well as complimentary water.
Kush Wynwood is located at 2003 North Miami Avenue, Miami, FL 33127. For more information, visit their official website.
La Giulietta
Ironside's best-kept secret is not only human-friendly but dog-friendly as well. La Giulietta, known for its exquisite Italian cuisine, is home to a spacious patio that's open to all. Grab a seat with your dog, and enjoy a wealth of handmade pastas and other treats. Some menu highlights include the spaghettoni alla puttanesca and the orecchiette with Italian sausage and broccoli rapini.
Fun fact: Your pup might make a new friend. Celebrity dog Fine Frenchie has a store right next door, and the adorable pooch is often seen roaming the patio greeting dogs and humans alike. You can read more about La Giulietta in our full-fledged feature.
La Giulietta is located at 7580 NE 4th Court, Miami, FL 33138. For more information, visit Miami Ironside's official website.
Lilikoi Organic Living
For people watching (and dog watching), there are few places as active as South of Fifth's Lilikoi. Bring your dog along for an enjoyable meal on the patio, and just relax. The healthy food concept boasts a mouthwatering array of tasty dishes that cater to all palates all day long.
In the mood for breakfast? Nosh on a breakfast burrito or veggie egg frittata. When lunch strikes, try some falafel or the tuna niçoise salad. For dinner, order a shrimp coconut curry bowl or Hawaiian-style poke. There's something for everyone here – you can read more in our feature.
Lilikoi Organic Living is located at 500 South Pointe Drive, Miami Beach, 33139. For more information, visit their official website.
River Oyster Bar
Brickell institution River Oyster Bar recently moved from its iconic location next to Brickell City Centre. Thankfully, that's the only thing that has changed: The restaurant's appetizing seafood and stiff drinks haven't gone anywhere, and neither has the restaurant's dog-friendly policies. Pooches are welcome for outdoor dining, so bring them along while you dig into some oysters, shrimp cocktail, squid ink spaghetti, grilled shrimp tacos and other specialties.
If you want your dog to make some new friends, swing by during the eatery's popular happy hour, when the place is slammed with humans and dogs alike. Happy hour is 4:30-7 p.m. on weekdays.
River Oyster Bar is located at 33 SE 7th Street, Suite 100, Miami, FL 33131. For more information, visit their official website.
Tran An
For a more casual ambiance, head on over to Tran An. The Vietnamese spot has a dog-friendly location in Little River that features delicious fare like pho, banh mi sandwiches and noodles. The outdoor covered seating ensures you and your pooch are protected from the heat as you order your way through the extensive menu. Make sure not to miss favorites like the lemongrass beef stew, house special broken rice and fresh shrimp spring rolls.
Tran An is located at 215 NE 82nd Street, Miami, FL 33138. For more information, visit their official website.