Stephen Starr's Makoto restaurant was an instant hit when it opened in the Bal Harbour Shops in 2011. The critically acclaimed restaurant—helmed by Chef Makoto Okuwa—managed to be something for all types who frequented the luxury shopping destination—from ladies who lunched on spicy crispy tuna to parents pushing designer strollers to food snobs looking to refuel on pristine sushi and sake cocktails. But the popular hotspot quickly grew out of its first-floor digs and needed a refresh—and what a glow-up it is! The new dining room seats 244 and is situated within the recently opened third floor of the Shops, in a new space designed by the world-renowned India Mahdavi. This marks a welcome return to fancy (but not fussy) Asian dining with a focus on sushi and robata items.
1. Say hello to a polished new bar.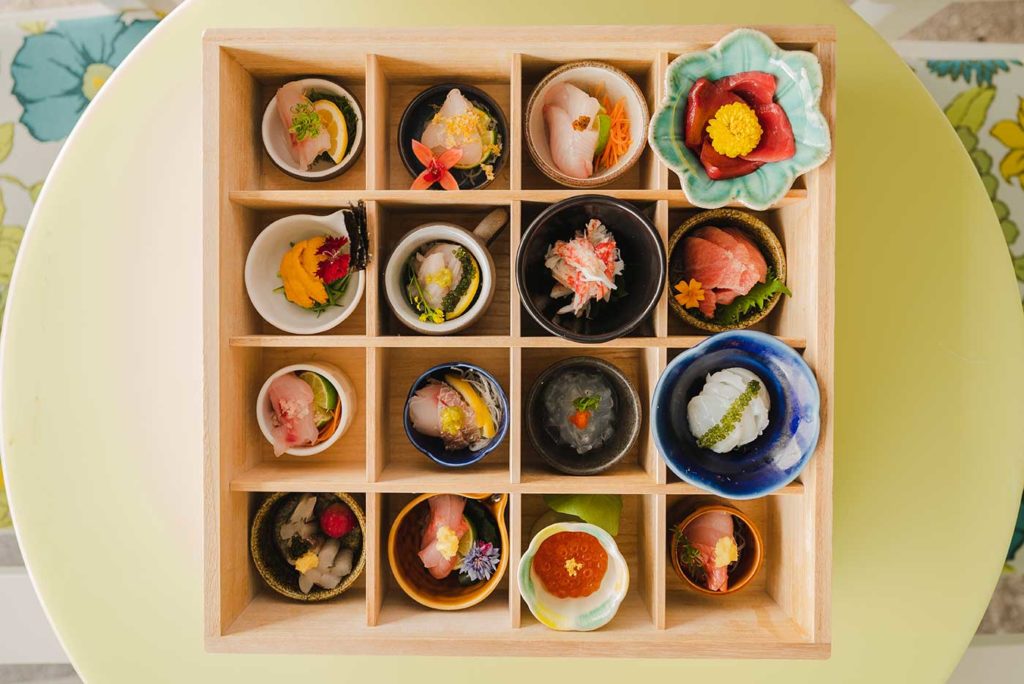 The bar at Makoto used to be an afterthought, tucked away outdoors in the corridor and offering no seating of its own. This new location features an expanded al fresco terrace and bar, and a new, exclusive sushi counter that seats 16 and shows off some of the things this restaurant does best. Were you thinking about starting with chilled salmon sashimi topped with truffle? You will be once you see all the people at the bar sharing plates of hamachi ponzu, fire and ice oysters, and toro tartare.
2. The new menu items are fire.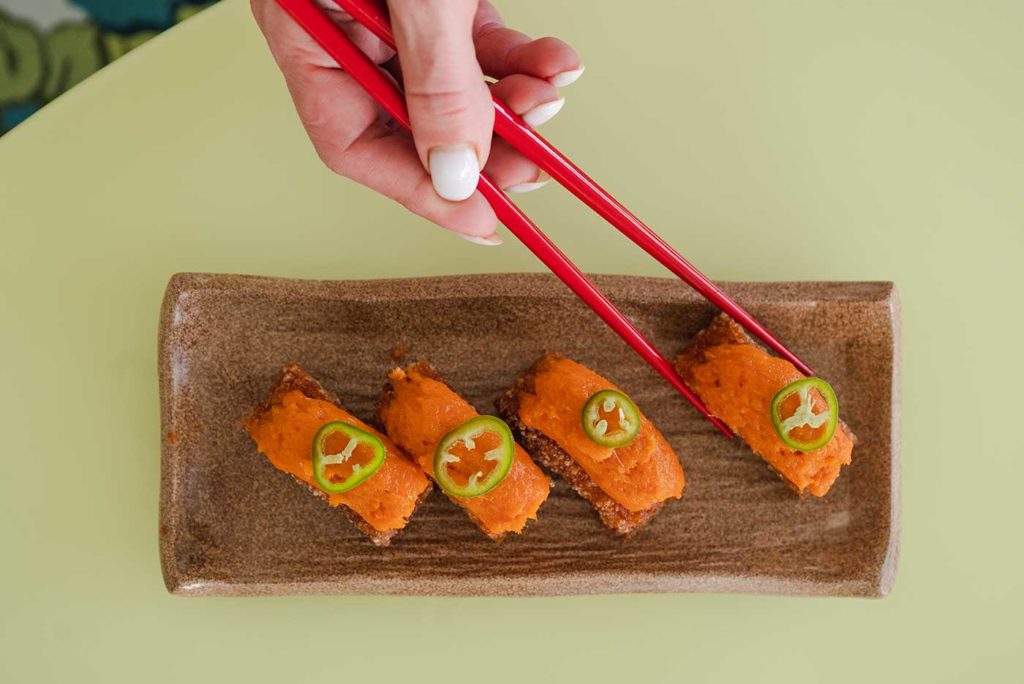 Makoto's spicy tuna crispy rice is a must-order whenever dining at the Japanese restaurant. The perfectly-crispy logs of rice topped with the fresh tuna spiked are the perfect balance of texture and flavor and now they've added a second variety to the menu—a hamachi crispy rice topped with yuzu koshu that hits all the right notes. Other new items include a tempura shishito dish and a 30-day Koji Aged NY Strip that is perfect for sharing when you don't want a heavy main course.
3. There's omakase too.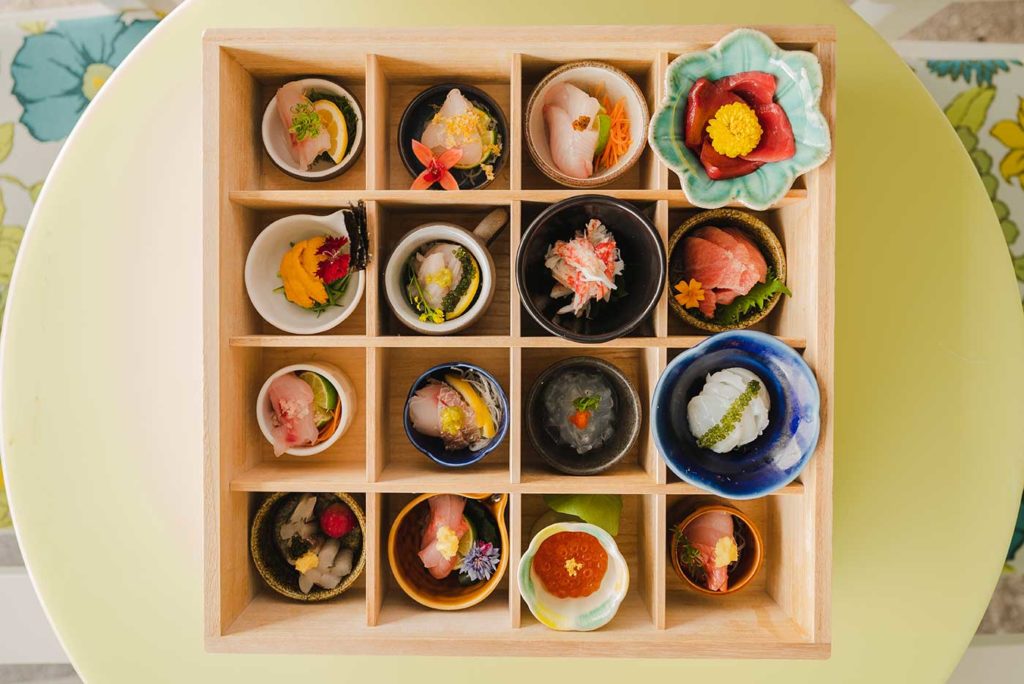 If you're feeling adventurous (and spend-y) the sushi chefs offer two ultra-decadent omakase excursions, with the finest cuts of fish ranging from Toro, Kasugodai, and Namadako to Bonito, Abalone, Ikura, and Shirako. With 15 pieces set at $175 per guest and 20 cuts going for $225 per eater, chef Okuwa's commitment to seasonality makes the affair mysteriously top-tier while the menu undergoes continuous growth through new bites and fleeting additions.
4. The new decor is very Golden Girls and we're here for it.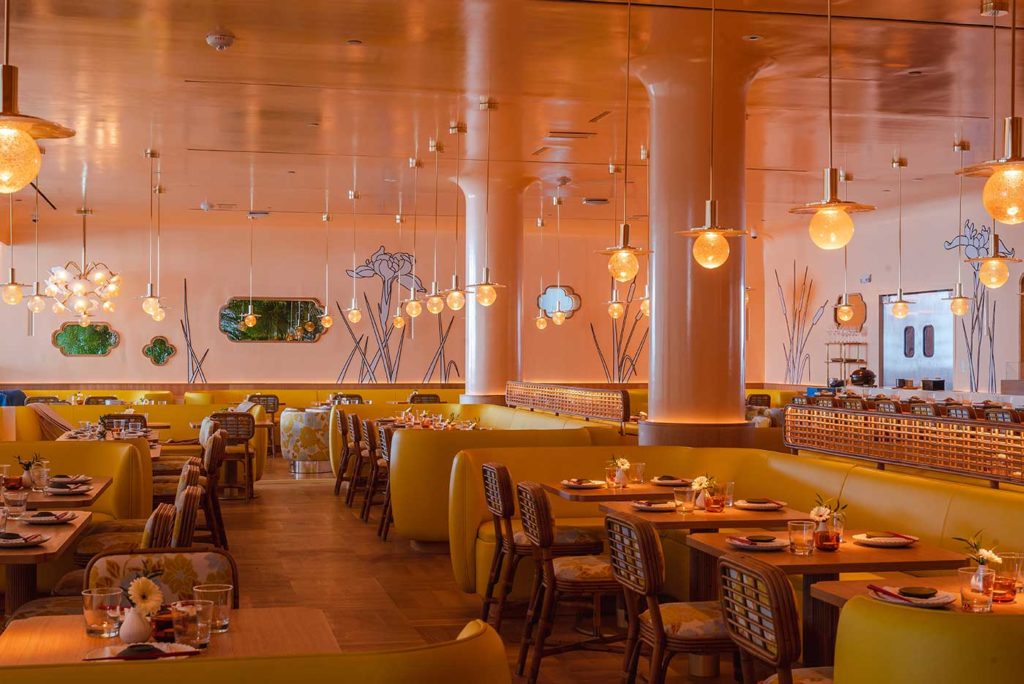 Makoto's updated aesthetic was developed by the Paris-based architect and designer India Mahdavi. For her, Makoto is cross-cultural—it convenes the French brasserie, the Japanese restaurant, and the American diner under one roof, giving birth to a feminine idea of a Japanese restaurant, something that doesn't exist. A soft and welcoming color scheme of coral pink, saffron, and sandalwood along with supersized flora motifs fill the room and make you feel as if you're entering a landscape at sunset. Outside, nostalgic 1930's-era chairs and palm trees populate the terrace. It's the kind of place Blanche Devereaux would easily glide into and hold court for hours with several glasses of chardonnay. We approve.
5. The cocktail menu features one of the most refreshing drinks of summer.
Speaking of libations, Makoto's Tatsu cocktail is a refreshing concoction of Banhez Mezcal, passionfruit, hibiscus, and hellfire bitters. It's the perfect sipper to quell the summer heat and clear your palate for the oceanic feast ahead.